Explanation of Osteopathy
Based on a health-oriented medical philosophy, osteopathic medicine uses a number of concepts to implement its principles. The neuromusculoskeletal system is used as a common point of reference because it directly relates the individual to the physical environment on a day-to-day basis. The practitioner's primary roles are to:
Address primary cause(s) of disease using available evidence- based practices

Enhance the patient's healing capacity

Individualize patient management plans with an emphasis on health restoration and disease prevention

Use palpatory diagnosis and manipulative treatment to focus on and affect somatic signs of altered structural, mechanical, and physiologic states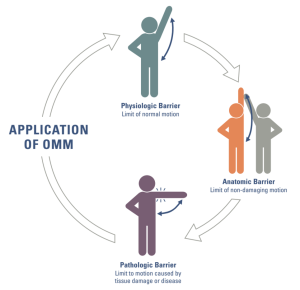 Osteopathic philosophy is meant to guide osteopathic physi- cians in the best use of scientific knowledge to optimize health and diminish disease processes. Upon founding his profession and school, Still expressed the hope that "the osteopath will take up the subject and travel a few miles farther toward the fountain of this great source of knowledge and apply the results to the relief and comfort of the afflicted who come for counsel and advice" (14). It is the intention of the authors to organize current medical knowledge and place it on a foundation of osteopathic philosophy. We do this in order to provide the osteopathic medical student with a road map that will lead to the further study of the science of osteopathy and the practice of the highest quality patient-centered health care possible.
Osteopathic manipulative medicine (OMM) is a core set of techniques of osteopathy and osteopathic medicine distinguishing these fields from mainstream medicine
Click here to view 40 different OMM Techniques
40 different OMM techniques
Active Method

Articulatory Technique

Balanced Ligamentous Tension

Chapman Reflex

Combined Method

Compression of the Fourth Ventricle

Counterstrain

Direct Method

Exaggeration Method

Exaggeration Technique

Facilitated Oscillatory Release Technique

Facilitated Positional Release

Fascial Unwinding

Functional Method

Hepatic Pump

High Velocity/Low Amplitude Technique

Indirect Method

Inhibitory Pressure Technique

Integrated Neuromusculoskeletal Release

Ligamentous Articular Strain

Lymphatic Pump

Mandibular Drainage Technique

Mesenteric Release Technique

Muscle Energy

Myofascial Release

Myotension

Osteopathic Cranial Manipulative Medicine

Passive Method

Pedal Pump

Percussion Vibrator Technique

Positional Technique

Progressive Inhibition of Neuromuscular Structures

Range of Motion Technique

Soft Tissue Technique

Still Technique

Thoracic Pump

Toggle Technique

Traction Technique

V-Spread Technique

Visceral Manipulation